From futsal to the world stage: Pelé, Xavi, Ronaldo, Ronaldinho, Messi, Cristiano Ronaldo, Neymar, the list is continuous, and they all started their soccer journey at Futsal proving this to be the best tool for players development.
Stars who spent their youth playing with the smaller, heavier futsal ball. A ball that could not be lofted into the air, but demanded speed of mind, fleetness of foot, flair and flamboyance.
According to one version of futsal history, the ball is weighted because it was began on courts surrounded by windows, near impossible to kick into the air, the heavy ball was therefore less likely to break glass. But whatever the origins, the weight and size compels a certain brand of football, a style Brazil made their own in the early 1970s.
"Futsal makes you think fast and play fast," says Pele. "You try things, it makes you dribble. It gave me a lot of confidence. I knew then not to be afraid of whatever might come". At the age of 14 he was allowed to compete with adults and quickly ended up top scorer.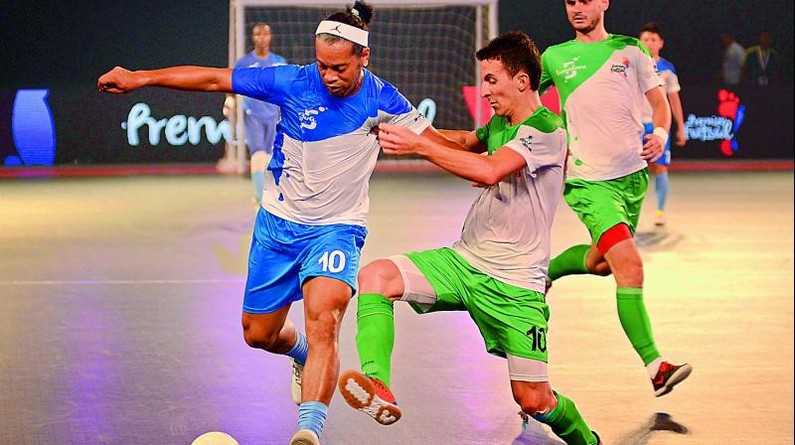 Much like Pelé, Ronaldinho turned to 5-a-side Futsal matches from the age of 7 to hone what would later become his signature playing style, which is characterised by a remarkable close control of the ball. Discussing his time playing Futsal, Ronaldinho says "in futsal you get to touch the ball far more often, a lot of the moves I make originate from futsal".
At Soccer de Brazil, our soccer school provides you with the opportunity to train both Futsal and Soccer. As You train in both conditions, you see the impact Futsal will have on your outdoor game, boosting your skills and performance when playing for your outdoor Club. Want to master the game? Get in touch with our friendly team today and see how you can get started with Soccer de Brazil Futsal and Soccer school.
Yours in sport,
Soccer de Brazil
FEEL THE

GREEN

&

GOLD

BEAT