Futsal Academy – Eastern Suburbs
Futsal is the best tool for football player development
With 600% more touches of the ball in a session, futsal is the best tool for player development!
From futsal to the world stage: Pelé, Xavi, Ronaldo, Ronaldinho, Messi, Cristiano Ronaldo, Neymar, the list is continuous, and they all started their football journey at Futsal proving this to be the best tool for players development.
Stars who spent their youth playing with the smaller, heavier futsal ball. A ball that could not be lofted into the air, but demanded speed of mind, fleetness of foot, flair and flamboyance.
At Soccer de Brazil, we will provide you with the opportunity to train both Futsal and Football. As you train in both conditions, you see the impact Futsal will have on your outdoor game, boosting your skills and performance when playing for your outdoor Club.
Want to master the game? Increase your skills, confidence, and love for the 'beautiful game'!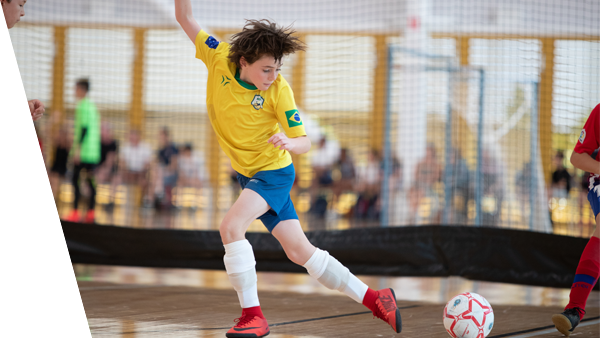 With a lot more touches on the ball, less players on the court, and played with a heavier ball, futsal greatly improves players control, passing, and striking skills

Futsal is a fast game, and decisions have to be made quickly. Training in a smaller area in a faster pace environment improves players decision making skills and reaction times much faster than the outdoor game

Players are put into more 1v1 situations and therefore need to be creative to overcome their opposition. We incorporate our Brazilian flair in our sessions to inspire, entertain, and educate.
What the stars say about futsal
Express interest for the SDB Futsal Academy
Training uniform to be purchased online via Ultra Football SDB Club Zone: