It is essential that parents and coaches look after all the details in the development of a player. A proper pair of shoes can make a big difference in the child's first steps in the soccer world.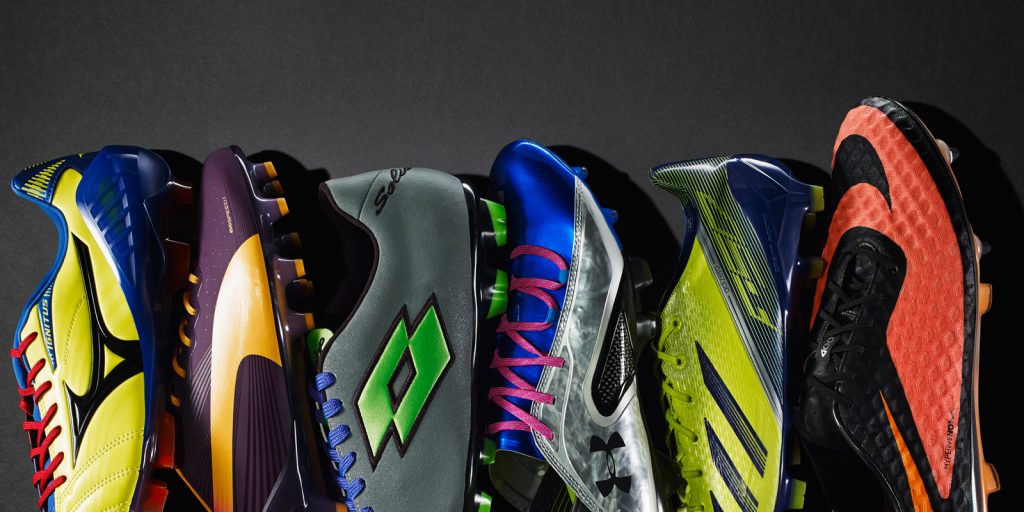 Buying a pair of soccer shoes for kids is not as simple as it sounds and a wrong choice can be not only frustrating but also detrimental. Of course, you don't want to spend a fortune on something you are not even sure your little one will fully embrace.
To complicate things, nowadays there are just so many brands on the market and the "look" plays a huge part in this social media generation. Every day there are more colours, different styles and trends, creating a bigger chance of the child losing interest and considering their boots out of date within a few weeks.
But aren't players and parents forgetting the most important part in all this?
Different surfaces require different boots. Different players require different boots. A child who is wearing boots that are too big for them in the hope that they will "grow into them", faces an uphill battle right from the first moment as a soccer novice.
The consequences can be irreversible. Parents who gave in to the child's request for the "coolest boots, because they look like Ronaldo's" may well end up regretting the unintended consequences.
To help you through this maze, we have put together a guide that will make it easier to ensure your child ends up with the boots that are best suited for their needs.
Futsal Boots
Futsal boots look like regular football boots, but have a flat rubber sole without studs. The futsal surface is a lot harder than grass, and the ball is also heavier. For this reason, the futsal boot is much more durable.
Our tip is to look for the synthetic material shoes, because the traditional leather models are heavier and do not allow players' feet to breathe, causing blisters and discomfort. Another detail to note when choosing these boots is the grip to prevent slipping and injuries.
Outdoor Soccer and Studs
The choice of shoes used to play on natural grass depends on some additional factors. The main two are: conditions of the pitch and weather. For example in higher grass, the recommendation is to use larger studs to improve stability. Again, the quality of material can make the difference especially considering the weight of the boots.
Synthetic Grass
Soccer played on synthetic grass, can also benefit from carefully chosen footwear. Even when some "weekend athletes" use the indoor soccer cleats to only occasionally play on the synthetic pitch, that decision can lead to injuries. Synthetic grass has in its composition rubber fibres, that make for a much more slippery surface than futsal courts. It is therefore much more advisable to wear boots with low studs, and with rubber to prevent slipping.
The Right Size and Comfort
At Soccer De Brazil academy, we see parents who want to get the most wear out of boots by purchasing a size too big, much too often! That is maybe the most classic mistake and it comes down to science and the magic of our brains.
Our brains are programmed to sense the extremities of our bodies, such as the top of our head and the tips of our toes. We can almost always touch the tips of our toes with our fingers without looking. When we run to kick a ball, our brain sends a message to our feet and knows the exact position of our foot when it strikes the ball.
Wearing a shoe that is too big adds extra length to our feet, which our brain does not automatically sense. What tends to happen is we then kick the ground beneath the ball because our brains have now misjudged the distance between the ground and the shoe. This leads the player to subconsciously adjust for this, resulting in bad foot placement or a lack of power in the kick.
This also affects players' running, their confidence, and their development. Extra socks will not help. This is a case where the cheapest choice can cost you more money in the long run.
Stick to the present and make sure the boot size is going to be perfect for the very next time your child is playing, not 6 months from now!
When trying on a boot, press the front of it. There shouldn't be a lot of extra room for the toes. It's supposed to be as tight as possible, so your child is able to move fast and with confidence, without hurting their toes.
The important thing here is making the child feel comfortable in their shoes, so it is one thing less to occupy their mind and they can focus on their training and games. When trying the boots, be sure to check how it feels after the child makes a few steps in the new shoes.
Also, as much as possible, allow the child to choose freely, without trying to influence his decision with comments about "looks" or price.
The first day can be traumatising, it is common for any boot at any age to hurt the feet in the first few games, so put on some Band-Aids on the heels and even little toes. After some days, it will feel better and the material will get softer.
Laces
The laces are usually too long and of course, we don't want to cut them, or change a brand new product we just bought. But the material these laces are made of is usually very slippery, causing the laces to come undone too easily. Sometimes they are not even proportional to the size of the shoes. You don't want the double or triple knots, so either cut the laces to their correct size or get a new set if necessary.
Boots for Different Playing Styles
In order for your child to develop, it is important to consider their style of play and also their physical attributes. There are no miraculous shooting zones or boots that will instantly make them run faster. But the weight of the shoes and the material they are made from can suit one child better, than another.
The persuasive advertising of big brands can get in our minds easily. Try to ignore that and get impartial advice instead. It is also a big mistake to evaluate what your child should be wearing, based on other children. The right thing to do is to find the boot that fits their individual style and body.
For example, if the child is fast and skilful and usually gets hurt by defenders, get a lightweight boot to improve his performance as a striker instead of trying to get one with thicker material to "protect" his foot or to "last longer".
Ask for Advice and Share Experiences
Although it is a big market, there aren't many reviews available for kids soccer boots online. Ask other parents or coaches for advice and recommendations on boots. Coaches can share all kinds of stories as they see many different children each season.
Avoid Fakes
As ironic as it sounds, the quality and variety of fake football merchandise has been improving and that can be the biggest trap of all. It's not uncommon for parents to think: "what's the difference?" or "what is wrong with this one, it's exactly the same!"
It is a fact that the minor details like laces, studs, sole design, and of course the material, will always make the biggest difference. The "look" should be the least of your worries. In the worst-case scenario, it can affect the way the child runs and develops their legs and posture.
Let's Face It: Looking Cool is Important!
Although it should not be the decisive factor in your choice, it is important to remember that especially in the beginning, the kid just wants to have fun with friends and feel good about themselves. The closest you can get to the boots of your child's idol or the ones they consider the coolest, the bigger part these boots will play in their motivation and ultimately performance.
Nowadays, the big brands are offering a massive choice of colours and customizations. You can even create a template that matches your favourite athlete boots, with the insertion of letters, numbers and flags on the outside of the shoe. For lovers of a more "retro" style, more discrete boots especially in black, have also returned to the shelves of sporting goods stores.
Finally, spending the day trying to find the right boots is also a great chance to spend some quality time together with your child. You may be surprised about how up-to-date they can be on the subject and teach you a thing or two on what is going on in the soccer boot market.
It will also be a good experience for them, as they can appreciate the value of supportive parents as they grow.
A soccer player never forgets his first soccer boots.